5

min­ut­ters læsning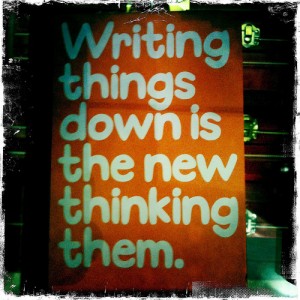 I just fin­ished a begin­ner's course on writ­ing skills with one of my class­es (first lev­el in upper sec­ondary school , the stu­dents are 16–17 years.)
The pur­pose was to teach the stu­dents dif­fer­ent tools and approach­es, that will be use­ful in a writ­ing proces.
The stu­dents assign­ment was to write a "let­ter to the edi­tor" of a news­pa­per or mag­a­zine of their own choice on a sub­ject they chose them­selves and actu­al­ly send it in. Obvi­ous­ly, the goal is to see one's opin­ions on print­ed paper — or on a online news site — and in a broad­er per­spec­tive (vio­lins fade in) to let the stu­dents become respon­si­ble cit­i­zens in a liv­ing demo­c­ra­t­ic com­mu­ni­ty (vio­lins fade out 🙂 ) .
The course con­sist­ed of 5 lessons:
1) The genre of "let­ter to the editor"
Stu­dents home­work: Read about the genre "let­ter to the edi­tor + pick 3 favorites on a online news­pa­per (I actu­al­ly linked to our local news­pa­per, Hern­ing Folke­blad's edi­to­r­i­al pages )
We looked at the basics of the genre. We talked a bit about do's and don­t's. The basics of defama­tion laws and the dif­fer­ence between alle­ga­tions and point of views in pub­lic debate.
The stu­dents dis­cuss and com­pare the qual­i­ties of their picked let­ters. Argu­ments, style, lan­guage, titles.
We tried to come up with 'do's and don­t's ' for our own writ­ing to come.
2) Brain­storm and research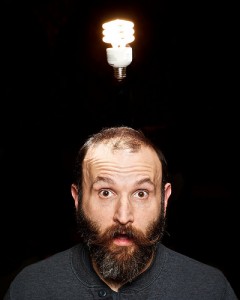 Stu­dent homework:
Think of an idea for a let­ter. It could be some­thing that bugs you in your every­day life or in nation­al or even world politics.
In class:
Then we try "speed writ­ing" , a writer's tool for gen­er­at­ing ideas. The stu­dents think of their sub­ject and have to write for 3 min­utes with­out inter­rup­tions. I tell them to dim their screen or bend it over, so they can't see what they are writ­ing. Some stu­dents use hand­writ­ing, if that is faster for them.
The idea is to suppress/surpass the "inner crit­ic", that tells us that every­thing we write sounds stu­pid and makes us press the delete button.
After the 3 min­utes, the stu­dents cir­cle key­words in their text for use in a mindmap.
The stu­dents intro­duced me to Sim­ple­mind, a free and sim­ple tool for cre­at­ing mindmaps offline. If you want to share and cowrite a mindmap, you can use for instance Mindmup.
When the stu­dents have pro­duced a mindmap, they swap lap­tops in pairs and help each oth­er with more ideas.
Then it's time for writ­ing a "plan" for the let­ter, a list of para­graph's titles. (I don't know the Eng­lish word — in Dan­ish it's 'dis­po­si­tion'.)
If they fin­ish ear­ly, they can do some net research and fact checking.
3) Feed­back on ideas in first draft
Home­work: The stu­dents should write a first draft and bring 3 print­ed copies to class. At home they should try speed writ­ing for 10 minutes.
In class: The stu­dents meet up in groups of 4 and give each oth­er feed­back in turn. Every­body reads A's text , give feed­back and then move on to B. I tell them to ask ques­tions in stead of critiz­ing and also find some­thing to appreciate.
This takes courage and a class cul­ture of trust and respect. The teacher must teach some rules of coach­ing and giv­ing response, and also talk about not tak­ing feed­back per­son­al­ly. But this is not easy, if you're 16 and are used to writ­ing exclu­sive­ly for your teacher.
4) Group com­ment feed­back on sec­ond draft in Google Drive
Home­work: Fin­ish your let­ter and share it with your class mates in our Google Dri­ve folder.
In class: The stu­dent groups writes feed­back com­ments on anoth­er group's let­ters. They could com­ment sin­gle words or para­graphs, and again, I told them to ask ques­tions, or sug­gest alter­nate words or phras­es, not criticize .
I told them to read one let­ter and then go for a 3 minute "monk's stroll" in the school to dis­cuss the let­ter and the feed­back they should write. When they returned in class, the group com­ment­ed in Google Dri­ve with ques­tions or advice. The author could decide for him­self if he want­ed to use the advice. (I have writ­ten else­where about using Google Dri­ve in the class­room, in Dan­ish though.)
The stu­dents liked the mix of sit­ting and walk-and-talk­ing about the feedback.
They also appre­ci­at­ed their own feed­back from class mates.
5) Edit­ing and targeting
Home­work : Choose 2 dif­fer­ent news­pa­pers or mag­a­zines and write two dif­fer­ent titles for your let­ter. Which title fits the tar­get group and why?
In class:
1) In pairs the stu­dents read and cor­rect each oth­er's let­ters as it is impos­si­ble to see one's own mis­takes because of the way our brain works.
2) We look at dif­fer­ent let­ters and dis­cuss if titles and lan­guage fits the tar­get group. When you have all the let­ters in Google Dri­ve it is easy for the teacher to show the stu­dents texts on a pro­jec­tor. I change one or two words in a title and let the stu­dents see the dif­fer­ence or they sug­gest let­ters to dis­cuss in class.
3) We dis­cuss the sub­ject of plagierism.
Is it plagierism to use help and feed­back from peers, when you write your text? No!
Is it plagierism to copy-paste and present as your own work? Oh,yes.
My gen­er­a­tion hold it as a self-evi­dent truth, but the young peo­ple think of the inter­net as a big cre­ative com­mons for every­one to drink from, like a pub­lic water reser­voir. We have to adress it.
- and off the let­ters go! I don't force my stu­dents to send it in. Must of them do, maybe in a few days.
A writ­ing pro­ces is a mix of soli­tary and social work, and mindmaps, speed writ­ing and feed­back from peers can help you over a writer's block.
And by the way. This is my first blog in Eng­lish. I ask my stu­dents to push their lim­its in order to evolve. Well, this is me walk­ing the talk.
Obvi­ous­ly, I hope to con­nect with more teach­ers from exot­ic places, and maybe have a cup of cof­fee one day. 🙂