3

min­ut­ters læsning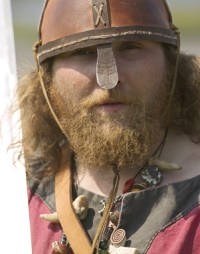 (This blog is inspired by a blog­post of my hon­oured tribe­mate Starr Sack­stein — you should real­ly go fol­low her)
When you have worked your way through a nov­el with a class for weeks it is great to fin­ish off with some syn­the­sis activ­i­ties and pre­sen­ta­tions to real­ly let the sto­ry sink in.
If you can find the right assign­ments or projects, the stu­dents engage and strive with their under­stand­ing of the text.
Starr Sack­stein let her stu­dents bring the char­ac­ters in "Ani­mal Farm" to life in a Talk Show. I remem­ber years ago, that I asked stu­dents to do a Ricky Lake or Jer­ry Springer show with sur­vivors from Stephen King's Car­rie's high school once. It was fun.
Let­ting the stu­dents use cur­rent pop­u­lar tv-for­mats some­times sparks some inter­est­ing dialogues.
Any­way, before Christ­mas break I fin­ished read­ing Ravnkel's Saga with these activ­i­ties, which my 30 stu­dents had to "vol­un­teer" to by writ­ing their name under it in a shared Google Doc :
1) Com­ic group
Make Ravnkel's Saga as a com­ic strip. Use free hand and paper , Strip­gen­er­a­tor or any oth­er tool. (They actu­al­ly drew free­hand and made a 2013-para­phrase, where rid­ing Frøj­faxe in their sto­ry was replaced with a younger broth­er play­ing an elder broth­er's for­bid­den PS3-game..)
2) Geog­ra­phy and Geneal­o­gy group
Show the places in the text in a Google Map and cre­ate a fam­i­ly tree for the saga (the lat­ter was sent to the next group and includ­ed in the Wikipedia article)
The group chose to do a Prezi.
3) Wikipedia group
Expand and improve the arti­cle on Ravnkel's Saga in Dan­ish Wikipedia (The last edit made by my stu­dents still stands)
4) Face­book group
Cre­ate Ravnkel's time­line with com­ments and likes from oth­er char­ac­ters. (We did­n't vio­late Face­books terms, because they cre­at­ed Fan Pages, and they can inter­act with each oth­er as well.) Here's an example.
5) Dra­ma group
Per­form Ravnkel's Saga as a play. (Lat­er , I thought of refin­ing this by demand­ing their inter­pre­ta­tion should con­tain ele­ments of farce, dra­ma, satire, tragedy , etc)
6) Gam­ing group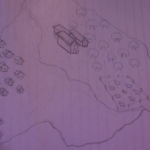 Design a com­put­er game based on the sto­ry. Choose a game genre and describe the game­play and sto­ry­line. The play­er must use knowl­edge from the Ice­landic saga world to com­plete your game. When you are done we sell your idea to a com­pa­ny and move to Bahamas.
They worked hard with these activ­i­ties. In fact some stu­dents worked dur­ing the break in order to com­plete their project. They pre­sent­ed oral­ly and hand­ed in dif­fer­ent dig­i­tal prod­ucts, some of which I have shown here.
I still get sur­prised some­times by the huge dif­fer­ence moti­va­tion makes in the class­room. Some­times you hit a nerve and all of a sud­den this old stuff is fun to work with.
Some­times I wor­ry if the stu­den­t's under­stand­ing of the text gets too super­fi­cial and sim­pli­fied or if we spend enough time with scrutinizing/analyzing the text, because I know they are not going to make a com­put­er game at their final exams …
Which activ­i­ties do you rec­om­mend for syn­the­sis and moti­va­tion? What works for you in your classroom?