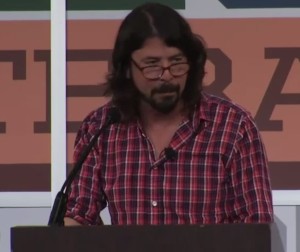 I just finished a short "speaker's course" in 1.g (students are app. 16 ys.), where we looked at different reasoning techniques before students prepared and gave a speech themselves in class.
As an introduction I let the students share links to a video of a favorite speaker before class in a shared Google Doc. They picked some fine examples:
Royal Blues:
(Now that I list them, it strikes me that 7 out of 8 student picked videos are American. Not a single Danish speaker.  I guess this also indicates, that Danish students live in the American cultural hemisphere! – but that's off topic…)
I haven't left out any videos. 12 out of 20 students didn't share a link – maybe they couldn't think of a speaker or they didn't do their homework. But the students who did, curated conscientiously. The TED video on non-verbal rhetorics in particular was actually good enough to show in full length.
I threw in a link to a clip from the fiction film "Royal Blues" with a less capable speaker as a contrast.
In class I played 1-2 minutes from each video in a row , and then the students made a list of a speaker's "do's and don'ts" in pairs which we discussed and finished afterwards together.
Advantages:
You get fresh teaching material, that you didn't know of (TED)
you get to know your students better,
and students feel included when they influence what their peers should learn from.
I wonder what would happen if you let students curate teaching material for a french revolution course in history… the teacher would become more of a "peer student" ?
I come to think of one of my favorite quotes on teaching:
I never teach my students. I only provide them with the conditions in which they can learn. (Einstein)